Tromboneplayalongs.com
An essential part of becoming an orchestral trombonist is the study of orchestral excerpts. I myself have spent many hours in a practice room trying to play with the perfect time and pitch needed in a professional audition. However, one day I realized that even the recordings of the greatest orchestras, however musical and stylistically correct they may be, can have subtle technical imperfections. I then decided to create a benchmark that, although may not have the best musicality, would have absolute perfect time and pitch. I have sung, buzzed, played, and even just listened to these tracks in order to train my ear to have a solid fundamental to which I could then apply style and phrasing. I have found great success in the regular use of these play-alongs both in my personal playing and in my teaching. It is very hard to find a friend, much less an entire low brass section, working on the same excerpts as you, practicing when you are, AND willing to play with you. With these play-along tracks these problems are solved.

​Each track takes a large amount of focused, tedious work to make sure every note is in place. The list of excerpts will continue to grow and existing excerpts will be improved as this project grows. If you find that these help you, please consider donating any amount you see fit with the "Donate" button below. This will help the site keep running and allow for better tools to create these play-alongs. Thank you.
Powered by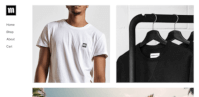 Create your own unique website with customizable templates.